About Sprouted Earth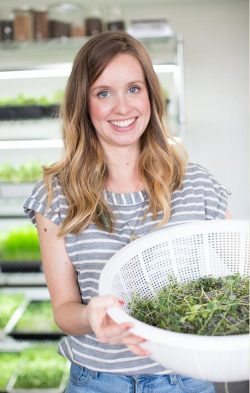 MEMBER SINCE 2018
Sprouted Earth is a Toronto based micro green farm delivering the freshest products to restaurants and local customers. We grow your greens to order. This means they will be as fresh as possible when you receive them. It's a small difference that has a huge effect on quality, vibrancy, nutritional value and of course, shelf life.
I'm thrilled to be a part of this community of growers. I feel passionate about natural and local products being available to customers.
Farmer(s)
Erin Miller
Address
2188 Bloor St. W. #317
Toronto ON M6S 1N3
Our Products
Microgreens
Our Practices
Certified naturally grown (pending approval)
Our Markets
Liberty Village MyMarket and sells to Bar Isabel, Bar Sybanne, The Good and Gold Standard Restaurants
Phone
647-300-5144
Website
http://www.sprouted.earth
Email
erin@sprouted.earth
[button link="https://www.farmersmarketsontario.com/find-a-farmer/" color="custom" size="" stretch="yes" type="" shape="" target="_self" title="" gradient_colors="#81d742|#81d742″ gradient_hover_colors="#9b9b9b|#9b9b9b" accent_color="#ffffff" accent_hover_color="#ffffff" bevel_color="" border_width="1px" icon="fa-map-marker" icon_position="left" icon_divider="no" modal="" animation_type="0″ animation_direction="left" animation_speed="1″ animation_offset="" alignment="" class="" id=""]Find Another Farmer[/button]