Creemore Farmers' Market: Weekly Scavenger Hunt & Market Quiz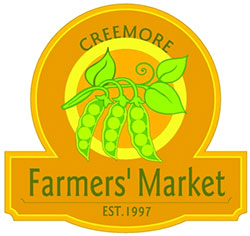 The Creemore Farmers' Market was looking for a fun and educational activity for children at their market. It was Market Manager Helen Martin who came up with the idea. "I knew it when I saw the vegetable cut-outs, made of felt, at our local toy store – they were perfect." The scavenger hunt began in 2017 for youth 12 and under and in 2019, a market quiz contest for those 13 and older was added.
What happens at the Scavenger Hunt?
Before 10 am each Saturday, the Market Manager enlists vendors' children to help hide the 5 different cut-outs around the market.
At 10 am the manager sets up the scavenger hunt sign. The sign shows the cut-out shapes.
Families with children gather at the sign and the manager announces the start of the scavenger hunt.
The first 5 children that find a cut-out bring it back to the manager and receive a $1.00 Creemore Market Buck. Most children use it to buy an all-natural fruit pop made by one of the farmers.
Children ask to go to the market to play the scavenger hunt and parents use the opportunity to talk about where their food comes from and the importance of fresh fruits and vegetables.
What happens at the Market Quiz?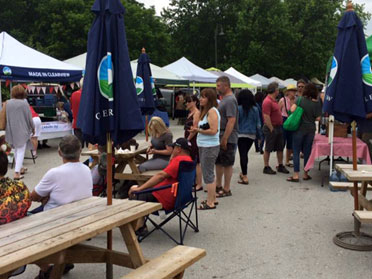 During the week, the Market Manager develops a list of five questions related to the products available on the market that week.
The questions are usually related to the health and nutritional benefits of the product and ask how many vendors are selling them. The goal is to get the youth to explore the market.
The youth can use their smartphones or ask others for help completing the quiz.
The youth return to the Market Manager, to review and discuss the quiz. All youth that return the quiz receive $5.00 in Creemore Market Bucks to spend at market.
There is no requirement for correct answers and no limit to the number of participants per week, but the number usually does not exceed 5.
Who makes it happen?
The Market Manager organizes the quiz questions before market day.
The Market Manager oversees the scavenger hunt and quiz weekly.
The Market pays for the Creemore Farmers' Market Bucks used as prizes.
 What are the results?
Over 20 youth with their families participate in the scavenger hunt weekly.
Up to 5 teenagers participate in the quiz weekly.
The market has engaged youth and families at low cost.
"Kids love the scavenger hunt and so do their parents – it gives parents an opportunity to talk about where food comes from and why it is healthy."

Helen Martin, Creemore Farmers Market Manager

Creemore Farmers Market
was established in 1997. It has 48 vendors and operates Saturdays from 8:30 am to 12:30 pm from Victoria Day to Thanksgiving and every second week during the winter from 9 am-1 pm.
For more information on the Creemore Farmers' Market, contact the Market Manager: creemoremarket@gmail.com