Harry Engel is one of the first market managers in Ontario to complete the Ontario Farmers' Market Manager Certification (OFMMC) program.
As the market manager at Wellington North Farmers' Market in Mount Forest, the OFMMC program has equipped Harry with a wealth of knowledge and skills for success that he didn't even know he needed.
Of the five main sections of the certification program, Harry says he is especially excited to implement what he learned from the Marketing and Promotions seminars. Promoting the Wellington North Farmers' Market, which usually has about eight to 12 vendors, has become a huge focus now that he better understands the important relationship between a farmers' market and the community it serves. Above all else, Harry says receiving the OFMMC has given him a major
confidence boost.
"Certification builds your confidence and knowledge base and gives you the tools for greater market success."
"I am not a vendor, but I am a vendor for the vendors," says Harry, explaining his new-found skills and qualities for market leadership that he gained from the program. The most significant thing that the certification program has taught him is that it's his job to sell the market to vendors, customers, and the community at large. Thanks to this confidence, along with a more in-depth knowledge of market management best practices, Harry says he now finds more success when reaching out to potential vendors and when tackling vendor and vendorship issues.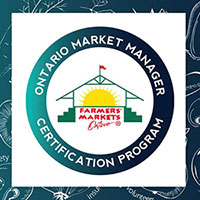 Overall, Harry says the program has improved all his management skills, from organizing regular market days to planning and promoting special events. He says he especially appreciates the downloadable resources and tools included with each section of the program.
When his certificate arrived in the mail, Harry says he felt blissfully satisfied. After all, it sure is an impressive feeling to be one of the first market managers in Ontario to receive the OFMMC. He recommends all managers enroll to receive their certification because by increasing their knowledge, their market will find more success.
"The potential of your farmer's market to be successful is directly related to growing yourself as a manager and implementing that growth in tangible ways," says Harry, who describes Wellington North Farmers' Market as a friendly, peaceful and safe atmosphere. "Add value to yourself and your community – and watch what happens."