About Yellow House Bees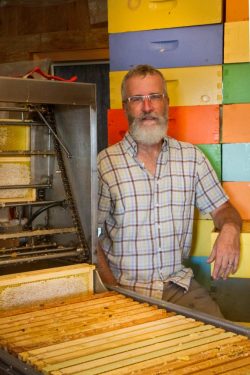 MEMBER SINCE 2018
Yellow House Bees is a Peterborough region beekeeping business. We are small and growing on the strength of good relationships. Our bees are located on Organic farms in the greater Peterborough area. They help those farms produce vegetables and as a bonus there is honey! Our honey is full season wildflower and is filled with flavour. We also have other products under development that use honey and bees wax. We also remove and house swarms that have landed in places that make people nervous.
With 20 years of teaching and more of community engagement, I rarely miss the opportunity to speak about bees and beekeeping with info sessions and bee yard tours.
Yellow House Bees started out as curiosity. Pretty much by accident I was a helper moving a nucleus colony into its full sized home. That did it. Each encounter with the bees has drawn me deeper into the beekeeping world. Connecting with farmers, who like the bees are some of the hardest working creatures on the planet, is an ongoing education.
Farmer(s)
Peter Hughes
Address
553 Harvey Street
Peterborough ON K9H 3K8
Our Products
Pure Honey
Our Practices
Natural
Our Markets
Peterborough Regional Farmers' Market
Phone
705-741-8485
Facebook
Visit Facebook page
Email
ptbobees@gmail.com
[button link="https://www.farmersmarketsontario.com/find-a-farmer/" color="custom" size="" stretch="yes" type="" shape="" target="_self" title="" gradient_colors="#81d742|#81d742″ gradient_hover_colors="#9b9b9b|#9b9b9b" accent_color="#ffffff" accent_hover_color="#ffffff" bevel_color="" border_width="1px" icon="fa-map-marker" icon_position="left" icon_divider="no" modal="" animation_type="0″ animation_direction="left" animation_speed="1″ animation_offset="" alignment="" class="" id=""]Find Another Farmer[/button]